Semi Automatic End Seaming Machine (For Drums & Barells)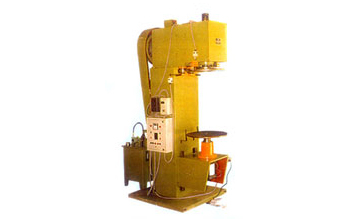 This machine is required for seaming of top bottom with body. We can also get triple seaming from this it, where two seaming rollers (made out of good quality steel duly hardened & ground) come one after another resulting in strongest leak proof seaming. On special order, ejection of solution can be incorporated. With the help of following equipments: Foot operated switch, location clogs, smooth steady rotating table pneumatic cylinders, limit switch, logic control, power pack. Table stroke hydraulic cylinder, electro magnetic clutch brake unit strong enough, chuck drive, and proper grooved seaming roller assembly.
Main features of this machine are:
Best ever drive, containing electromagnetic clutch crack, heavy duty crown and double bearing on vertical shaft, bush as well as roller bearing on both ends. Also given is the thrust bearing for rigidity and stability.
Hardened Chuck, very hard ground seaming.
Solid state electronic logic control.
Adjustable stroke hydraulic cylinder for both operations of quick and micro fine seating.
By pass system for semi auto mode and manual open while seating.
Separate individual functioning of each and every part.
Free from mechanisms make the machine absolutely maintenance free.
Quick changing of change parts shift.
Request a Quote