Painting Booth for Barrel and Drum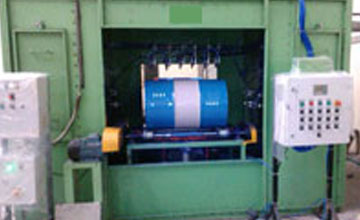 Heavy Duty Airless Spray Painting System Consist Of:
Airless High Flow Sprayer Pump Ratio with Suction Hose Assembly & Air Filter Regulator
High Pressure Double Paint Filter With suitable filter cassette
Airless Automatic Spray Gun
Airless Standard Spray Nozzle(Suitable For Application)
Return Line Back Pressure Valve
High Pressure Paint Hose With Fittings
Flexible Air Pipe
Airless Gun Filter Assembly
Gun Mounting Fixture with Two Axis movement,Gun Swiveling Attachment & Length adjustment.
Electro pneumatic control panel (PLC based
Pump Mounting Stand
Rotary spinners with motor starter and complete with chain drive system with attachments for back drop after painting paddle operated.
Painting System For 20-25 Ltrs Drum
Paint booth with exhaust blower with
Front side and back side opening suitable For 20 ltr
Spinner for 20 ltr containers motor and Chain drive variable speed.
Ejector
Uppendor
Control panel for above
Automatic painting system for 20 ltr Container single colour plc based with 50 Ltr paint container and pneumatic Stirrer.
Request a Quote