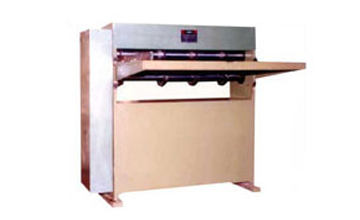 Jethwa's versatile semi-automatic machinery has been made; with a view to keep in mind the various requirements of the tin can making industry. We present to you the whole range of semi-automatic machinery and equipment for round containers, for packing various products. The importance of our machines lies in the modern and functional design based on many years of development, finest workmanship backed by a team of first class craft men's. Today the firm is a leader in tin manufacturing machinery and also an exporter to the sophisticated markets of the world-a proof of consistent quality.
Seamless Joint
Seamless welding joint can be obtained automatically continually.
No Deformation
Width of welded joint is small and only a little quantity of heat is produced, since wire electrodes are used.
Machined Freely To Any Shape
Welded bodies can be expanded and squeezed freely to any shape within the limit of material's properties, which enables welded cans to be machined to a degree, ever thought to be impossible.
Pollution Preventive Equipment Not Heeded
The side seam welder is completely free from pollution, since it does not produce harmful substance like in conventional welding operations by solder and flux. This greatly serves to provide a comfortable working environment and does not require any pollution preventive equipment.
Jethwa Automatic Can Equipment co. has a team of service engineers providing a nationwide coverage for commissioning including staff instruction routine servicing and supply of spare parts. Our service organization ensures prompt, effective attention to customers' needs at all times.
Request a Quote